Every year millions of people volunteer with churches and not-for-profit organizations, hoping to make a meaningful difference. According to the Bureau of Labor Statistics, 62.6 million people (24.9% of the U.S. population) volunteered through or for an organization at least once in a 12-month period. The most likely people to volunteer were 35-44 year-olds (28.9%), then 45-54 year-olds (28%), followed by teenagers 16-19 years-old (26.4%). The least likely to volunteer were 20-24 year-olds (18.4%).
Recently, a leader of a college campus ministry asked me what he should consider the most when recruiting volunteers: gifts, passions, or ministry needs. The short answer is, "Yes!" In fact, I would add a fourth. To increase volunteer engagement, I believe it's helpful to consider the intersection between gifts, passions, time, and needs.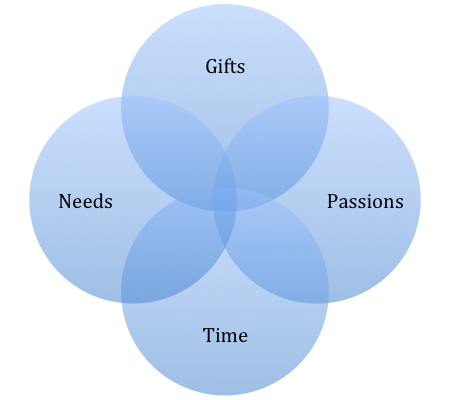 Gifts are the combination of abilities, skills, and spiritual gifts that define how a volunteer can make their greatest contribution. Without the right gifts, the volunteer can't help you, the organization, or the people served by the organization. And there are practical steps volunteers can take to confirm whether or not they have a gift. As leaders, when we ignore the gifting of a volunteer, we become self-serving rulers rather than people-empowering leaders. Gifting determines how the volunteer can help.