Passion and vision are important parts of leadership and organizational culture. You have to capture a vision, and make sure the vision has substance. You have to discover your passion, and ensure it matches your vision. The truth is, neither can exist without the other. In fact, each one stimulates the other in what I call the passion/vision loop. Here's how it works.
First, passion births a perceived vision. Vision doesn't just pop out of nowhere. It begins when a leader's hearts comes alive with passion. That passion is usually ignited when the leader is stirred by a need or a problem. Eventually the leader is able to articulate his passion as a clear and compelling vision for the future…something that becomes an answer to the need or a solution to the problem.
Second, pursued vision produces more passion. As the leader casts the vision, and mobilizes people and resources to pursue it, the passion grows even stronger. What the leader had always hoped for is no longer confined to wishful thinking. It's actually happening, and the energy associated with progress becomes contagious. As Bill Hybels says, "Vision is a picture of the future that produces passion."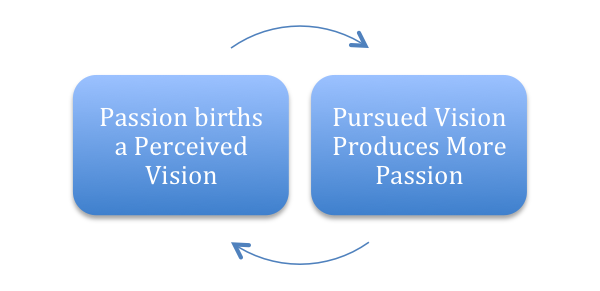 As you experience the passion/vision loop, it's good to keep three things mind to keep the loop alive without killing your organization.
1. Processes
In his book, Predictable Success, Les McKeown describes the stages organizations experience as they age. One stage is called "White Water." Organizations experience White Water when their growth exceeds the capacity of the organization's systems and processes. Things start to get choppy, break down, and fall through the cracks because old processes can't support the new growth.
This condition can happen when the vision/passion loop picks up speed. The vision is executed to produce great results, and those great results create more passion to produce even better results. Instead of reaching 100 people, now you're reaching 500. And if you can reach 500 people, surely you can reach 1,000 people. Instead of selling 1,000 widgets, now you're selling 5,000 widgets. And if you can sell 5,000 widgets, surely you can sell 10,000 widgets. The problem is, your systems and processes can't handle the growth. If the processes don't match the growth, the growth will stop and the passion will fade.