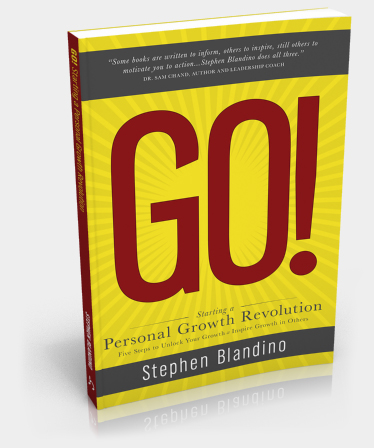 My new book, GO! Starting a Personal Growth Revolution will be out in just a few weeks. This book equips you to unlock your personal growth and inspire growth in others. You can learn more about the book, and who has endorsed the book, right here.
I'd like to ask for your help
I really believe this book can help many people close the gap between who they are and who they want to become. I believe it will help readers reach their God-given dreams, maximize their personal growth, and invest in the growth of others. But I need your help to spread the word.
I'm inviting 50 bloggers to review my new book on their blog and to receive an extra copy to give away to one of their readers. If you're a blogger, here's how you could win two copies of my book:
Apply here by August 24th (it's fast and simple)
Write a review of the book on your blog between September 7th and September 30th
Give away your second copy of the book to one of your blog readers. Be creative.
I'll select up to 50 bloggers from those who apply and will send each of them two copies of my book.
So what else is in it for you?
Good question! In addition to the two copies of my book, I'll select one blogger to receive a free personal one-hour coaching call and I'll select one blogger to share a guest post on my blog with links back to your blog (article is subject to my approval).
If you can help me spread the word, join my blog tour or retweet or like this post. And if you know a blogger who might be interested, feel free to share this post with them. Thanks for your help.