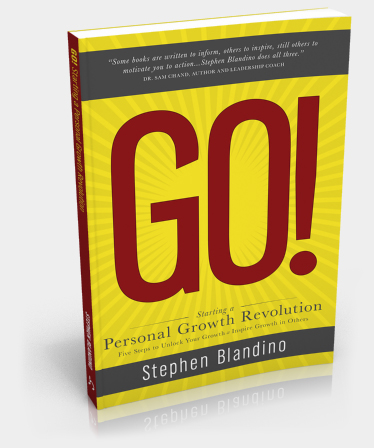 If you haven't picked up a copy of my book, GO! Starting a Personal Growth Revolution, now is your chance to do so at an unbeatable price. Monday – Wednesday, December 17-19, 2012, you can download the Kindle version of GO! at no cost. It's the perfect early Christmas gift that will help you grow to your full potential as you enter a new year. So spread the word and tell your friends on Twitter and Facebook.
GO! is endorsed by some great people like leadership consultant Dr. Sam Chand, Pastor Herbert Cooper, Professor Dr. Doris Gomez, LifeChurch.tv Team Development Leader Jerry Hurley, and Syndicated Radio Host Bill Barnett.
No matter where you are in your personal growth journey, GO! will help you define and take your next step. GO! is for anyone who wants to:
Close the gap between who they are and who they want to become
Create a customized personal growth TRAC
Get "unstuck" in their journey toward their dreams
Inspire and unleash growth in others
Maximize their potential by climbing the five levels of personal growth
Click HERE to learn more about GO! Or, to get your FREE copy on Kindle for a limited time, click HERE. And if you don't mind, do me a favor and spread the word with your friends and followers on Facebook and Twitter. If you would prefer a paperback version, you can purchase a copy HERE.