Today is the official release of our new book, Unexpected: What to Do When Life Disrupts Your Plans. To celebrate the book's release, we're giving away FOUR FREE BONUSES to everyone who buys the book THIS WEEK and emails me a copy of their receipt. I'll share all the details in a moment, but first…a bit about the book.
On October 17, 1989, my wife Karen was traumatically robbed when five men broke into her house and dragged her out of the shower at gunpoint. In that debilitating moment of pain, Karen's peace was stolen from her, and she was forced to walk an unexpected road to recovery.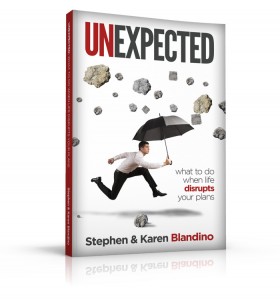 On March 16, 2014, I suddenly found myself on a road that would lead to a fight for my life. Initially the doctors thought it was Pneumonia, but after an Echocardiogram they quickly discovered my situation was much more critical. After an emergency transport by helicopter to the Heart Center, and thirty-six hours after my battle initially began, three doctors met my wife in the hospital waiting room and said, "Stephen is simultaneously experiencing congestive heart failure and pulmonary failure. He's between a rock and a hard place."
Everybody Encounters the Unexpected!
Whether it's losing a job, receiving a bad report from a doctor, a late-night phone call, a relationship ending, a financial setback, or a dashed dream, "unexpected" shows up in unwelcome ways. Sometimes it feels like it's raining rocks, and we're doing our best to dodge a fatal blow. The question is, how do we respond when life unexpectedly disrupts our plans?
In our new book, Unexpected: What to Do When Life Disrupts Your Plans, Karen and I share our unexpected and personal stories of pain and disruption. The stories are raw, transparent, and honest. We share our fears and the roller coaster of emotions experienced when life disrupted our plans. Most importantly, we share hope, and seven takeaways that we believe will help you navigate your own unexpected disruptions including: Prayer, Trust, Perspective, Family, Community, Purpose, and Legacy.
Each takeaway is loaded with practical wisdom that you can apply to your life today. And every chapter includes honest, authentic, and emotional clips from our journey. Whether you're navigating an unexpected disruption, or your life is going great, the insights in Unexpected will inspire hope, offer wisdom, and deepen your faith. When you purchase the book THIS WEEK, you'll have access to FOUR FREE RESOURCES. 
"When life disrupts your plans – and it will – how will you respond? Karen and Stephen Blandino have walked through deep valleys of disruption and emerged with truth that will help you face your own times of pain and loss. Take advantage of their hard-won perspective for facing the unexpected setbacks and traumas in your own life."Dr. Daniel Allen
Leadership Coach and author of Summoned: Stepping Up to Live and Lead with Jesus.
Four FREE BONUSES When You Purchase the Book THIS WEEK
When you purchase the book this week, you'll receive a link to four FREE BONUSES including:
1. The Unexpected Study Guide – This 5-session guide is perfect for personal reflection or discussion in a small group. When you buy the Unexpected book, you'll receive a digital PDF copy of the Unexpected Study Guide. The five sessions in this easy-to-use guide includes:
Trust: Replace the Question with a Period
Perspective: Refined or Defined
Community: Family, Friends, and the Power of Love
Purpose: Leveraging What Is for What Could Be
Legacy: Write It While You're Living
2. "Conquering Your Fears in the Unexpected" Video Series – Fear is possibly the greatest emotion we encounter when the unexpected disrupts our world. To help you face your fears, you'll receive access to a 4-part video series called, "Conquering Your Fears in the Unexpected." This series addresses four fears:
The Fear of Inadequacy
The Fear of Failure
The Fear of Rejection
The Fear of the Unknown
3. Overview of the 7 Takeaways – This single-page document provides a quick reminder of the 7 takeaways to help you successfully navigate the unexpected in your own life.
4. GO! Starting a Personal Growth Revolution – Finally, with your purchase of Unexpected, you'll receive a digital PDF of my book, GO! Starting a Personal Growth Revolution. This practical, full-length book uses insightful wisdom, inspiring stories, and practical examples to show you how to:
Close the gap between who you are and who you want to become
Climb the five levels of personal growth
Create a customized personal growth plan
Maximize your personality type to grow to your full potential
Make intentional investments in others by using the six growth deposits
Multiply your personal growth for continual impact
GO! equips you to grow to your full potential and help others do the same. Whether you're a pastor, coach, leader, HR professional, student, or you simply want to take your personal growth to a new level, GO! is your roadmap to get there.
How Do I Receive My Four Bonus Gifts?
1. Purchase the Book This Week – Unexpected is available on Amazon, Kindle, Barnes & Noble, and Books-A-Million.
2. Email Me a Copy of Your Receipt – After you purchase the book, simply email your receipt to unexpectedbook (at) gmail (dot) com.
After we receive your receipt, we'll email you a link to a page where you can download each resource. This offer is only valid through the end of the day, September 20, 2014.
Order Your Copy of Unexpected TODAY on
"An invaluable, honest and practical look at how we should respond when unexpected disruptions happen in our lives. This affirming message of hope and healing is a must read!"John McKinzie
Lead Pastor, Hope Fellowship, Frisco, Texas
Don't Miss Out!
Order Unexpected THIS WEEK and Receive 4 Free Bonuses