Am I doing what I was made to do? That questions spans every generation like a permanent fixture in the landscape of our future. We desperately want to make our lives count, but we often find ourselves trapped in a holding pattern of frustration and disappointment.
Maybe that's how you feel.
Maybe what is doesn't look anything like the what if you dreamed of in earlier years. Or maybe you're just beginning your journey, but you're franticly searching for direction so you can make the biggest impact with your life. Regardless of which end of the spectrum you find yourself on, the same question haunts you: Am I doing what I was made to do?
But it doesn't have to go unanswered.
Ephesians 2:10 says, "For we are God's handiwork, created in Christ Jesus to do good works, which God prepared in advance for us to do." Before you were even born, God designed "good works" for you to do. He designed you to do something important, something that matters, and something that will make a difference in our world.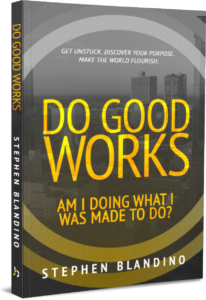 In my new book, Do Good Works: Am I Doing What I Was Made To Do, I provide a clear pathway to answer "the question," and help you get unstuck, discover your purpose, and make the world flourish.
You'll learn how God created you ON purpose, cultivated you FOR purpose, crafted you WITH purpose, and called you TO purpose. No matter what your past holds, the pain you've experienced in life, or the challenges you've faced to get where you are today, Do Good Works will help you discover the extraordinary intentionality God used in creating you, designing you, and preparing you to do good works that matter.
Filled with hope, inspiring stories, and practical ideas, Do Good Works will equip you with ideas and insights to discover the unique good works God created you to do. You'll discover how to:
Break out of your holding pattern, get unstuck, and find direction
Turn over the ten pieces of your "Good Works Puzzle" so you can discover what you do best
Link your puzzle pieces together to discover the specific Good Works God designed you to do
Find a role at work, church, in your community, or in culture that will help you fulfill your good works
Live out your good works and make the world around you flourish
Do Good Works is not only inspirational, but it also provides an extremely practical roadmap to discover your purpose, find a role that's right for you, and leverage your God-given strengths to make the world flourish. Plus, the "My Good Works Journal" at the back of the book will help you capture all of these insights and hone them into your own "Good Works Statement."
Get your copy of Do Good Works: Am I Doing What I Was Made to Do? today (Available in Paperback or on Kindle). Plus, take advantage of the bonus resources available at DoGoodWorksBook.com.