My new book, Do Good Works: Am I Doing What I Was Made to Do? is out today. For me, this is far more than a book…it represents my life message. It captures years of insights and presents them in a compelling and extremely practical approach that helps you answer the question that haunts every generation: Am I doing what I was made to do?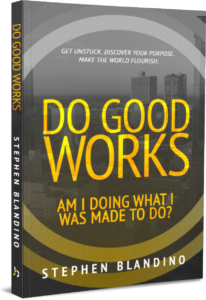 Click Here to Order Your Copy Today
For years I've taught, written, and coached others on the subject of discovering your life's purpose. Whether speaking at a conference, teaching in a classroom, investing in my staff, engaging in a coaching conversation, or writing an article, the subject of life purpose has always fascinated me. The apostle Paul captured it well when he said, "For we are God's handiwork, created in Christ Jesus to do good works, which God prepared in advance for us to do." The question people wrestle with is, "What are the specific good works God created me to do?"
Do Good Works helps you answer that question, and leaders like Sam Chand, Tony Morgan, Steve Moore, and Chris Railey have already endorsed it. In Do Good Works, you'll learn how to:
Get unstuck and find direction for your life.
Turn over the ten pieces of the "Good Works Puzzle" and link them together to discover your purpose
Clarify your gifts, abilities, passions, values, calling, and more so you can pursue the good works God created you to do.
Craft your insights into a compelling Good Works Statement that captures God's call for your life
Find a role that matches who God made you to be so that you can live out your good works every day
Make your slice of the world flourish as you do good works
Do Good Works presents a practical process to discover your good works and live everyday with significance. Do Good Works is for…
People who are asking, "How do I discover my purpose in life and truly make my life count?"
College students and young adults who want to pinpoint the direction for their future and find a role that's right for them.
Leaders, mentors, and coaches who want to help a friend, team, or mentee play to their strengths and live on purpose.
Anyone at a crossroads who wants to figure out what's next, make a job transition, or do what matters most.
For a limited time…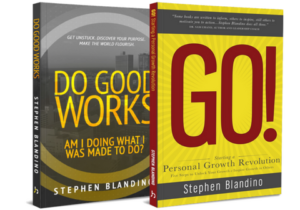 When you buy Do Good Works, you can download my book, GO! Starting a Personal Growth Revolution free. Do Good Works will help you discover your God-given purpose. GO! Starting a Personal Growth Revolution will help you develop your God-given potential.
TOGETHER…You'll be equipped to make your life count and maximize your impact in the world. To claim your bonus, just go to DoGoodWorksBook.com.
Click Here to Order Your Copy Today
Do Good Works is available at Amazon, Barnes and Noble, and Books-A-Million in paperback or on Kindle. Check it out today, and discover the good works waiting for you to fulfill.