Learning with friends or colleagues is a great way to assimilate new ideas and apply fresh insights to your life. My new book, Do Good Works: Am I Doing What I Was Made to Do? just released, and to help you take the journey with friends, I've developed the Do Good Works Six-Session Group Discussion Guide.
This FREE Guide will help you facilitate great conversation as you explore six thought-provoking sessions: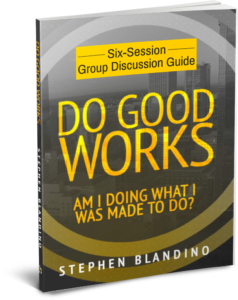 1 – You Were Created ON Purpose
2 – You Were Cultivated FOR Purpose
3 – You Were Crafted WITH Purpose
4 – You Were Called TO Purpose
5 – Turning Ten Facts Into One Focus
6 – Matching Your Good Works with a Good Role
Do Good Works and this helpful discussion guide are great tools to discuss with friends, co-workers, and in church small groups. Download the discussion guide HERE for free.