I recently had a conversation with a young leader who is fairly new to his organization. He is full of vision and ideas, but he also recognizes that he's the new kid on the block, and his influence is limited. His question was simple: "How do I lead up?"
This is a common question, and frustration, among young leaders and new employees. While it takes time, I believe there are practical steps emerging leaders can take to speed up the process. Here are ten suggestions for leading up.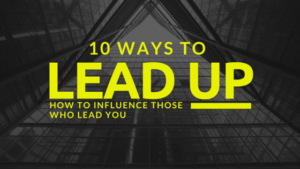 Featured Download: Get your FREE copy of my resource,

The Young Leader's Guide to Building Influence

.

Click Here to Download

.
1. Responsibility: Do what you were hired to do
The first thing your leader wants to know is whether or not you're getting the job done that he hired you to do. Nothing else matters if you're not taking care of the basics. Some young leaders are anxious to take on additional assignments, but if you're not responsible with your job description, why on earth would your leader expand it? This is the starting point to leading up. It's at the heart of someone who can be trusted.
2. Excellence: Consistently over-deliver
Excellence is a commitment to do more than enough to get by. It's delivering work that is downright impressive. Responsibility means you can be trusted. Excellence means you can be heard. If you want your leader to hear you, he has to see a level of excellence that gets his attention and makes an impression. Doing what you're supposed to do doesn't get noticed. It's expected. You don't get a trophy or a bonus for doing what you were supposed to do all along. But when you consistently over-deliver, your leader starts paying attention. This one act will set you apart from the pile, and will immediately give you greater influence to lead up.
Responsibility means you can be trusted. Excellence means you can be heard. Click To Tweet
3. Teachable: Be a curious listener and learner
Nobody likes a know-it-all. Nobody! If your leader feels like he can't teach you anything because you already know it all, you'll never lead up. That's a turn off. No matter how smart you are, try not to make assumptions about what your leader does or doesn't know. Remember, most of us don't know what we don't know. You have to deal with your unconscious incompetence. When you make yourself teachable, you endear yourself to your leader. Be humble, listen more than you talk, and exercise patience. Welcome honest feedback, and don't get defensive when your leader gives it. In addition, increase your value to the organization by cultivating an aggressive learning posture.