Hiring new team members is one of the most important things a leader does. Every member of a team impacts the culture of an organization, which is why a quality onboarding process is so important. To ensure your organization's onboarding process is comprehensive, focused, and effective, be sure to include these five steps.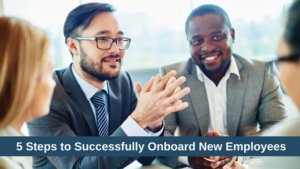 1. The Basics
Anytime a new employee joins your team, there's always a plethora of details to address. This list includes reading and signing your employee handbook, payroll, benefits, building keys, alarm codes, forms, processes, office hours, credit cards, accounts, budgets, business cards, and a hundred other details. Many of these items are so basic that it's easy to assume people already know. Carefully list each detail, and who is responsible to walk new team members through each one.
Another basic, but very important, component of onboarding is to ensure the rest of the team has an opportunity to meet and interact with your newest hire. Depending on the size of the team, this may happen through a departmental lunch, an all-team gathering, or one-on-one.
2. Technology
Like "the basics," it's easy to assume new team members understand and have access to technological resources that are necessary to do their jobs. Before making a new hire, create a master list of technological tools, training, and guidelines to review during the onboarding process. Tools might include a computer, cell phone, office equipment, or other tools specific to an employee's role.
Training will likely be much more broad, and may require a variety of other team members to actually provide the training. How will you train your staff on your organization's office equipment, management software, project management tool, or other online programs? We use a host of resources at 7 City Church like Churchteams, Planning Center Online, Wufoo, Mailchimp, Survey Monkey, Office 365, Vimeo, Covenant Eyes, Dropbox, CCLI, Amazon Prime, and many others. What are the technologies used in your organization, and who will train your newest employees?
One final piece of technology to pay attention to is email, website, app, and social media accounts. Who will set-up your member's email account? Do you need to post your team member's photo on your website? Do they need login information for your website, app, or social media accounts? Do you have written email etiquette and social media policies that staff members are required to follow? Attention to these details is essential during the onboarding process. It's always easier to address these issues before they become an issue.