I love to invest in people who are passionate about growth and leadership. I also understand the importance of finding the right speaker to address these needs with your audience. I am honored that you would consider me to speak at your next event. Whether I'm speaking to a team of leaders, in a local church, or at a large conference, my goal is to help you achieve your desired outcomes.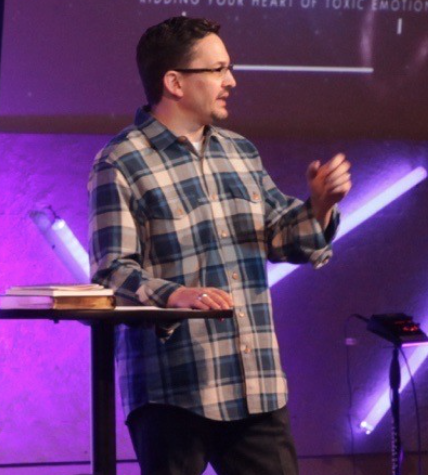 I have experience as a lead pastor, executive pastor, and nonprofit leader, and I hold a Master's in Organizational Leadership. I've spoken to thousands of leaders across the United States, and coached pastors and organizational leaders. I'm passionate about equipping leaders to develop thriving churches, organizations, and cultures. I'm also a blogger, adjunct professor at SAGU, and author of: Do Good Works: Am I Doing What I Was Made to Do?, GO! Starting a Personal Growth Revolution, Creating Your Church's Culture, and Unexpected: What to Do When Life Disrupts Your Plans.
I'm happily married to my wife, Karen, and we have one daughter, Ashley. We live in the Fort Worth area. In my free time I enjoy reading, writing, and spending time with family and friends.
My Speaking Topics
I'm available to speak at conferences, seminars, and to church leaders for key note, half-day, or full-day events. If you're interested in having  me speak to your staff or at your next event, please complete the from below. I speak on a number of leadership, personal growth, and ministry topics including:
The Five Practices of Personal Growth – Personal growth has the power to transform you and the people you lead. This session unpacks the five practices necessary to maximize personal growth and to inspire growth in others.
Developing a Personal Growth TRAC – Every year people set growth goals but never realize their full potential. This extremely practical session helps you create a customized growth TRAC, equipping you to set and achieve growth goals and realize your full growth capacity.
Five Questions Every Leader Should Ask – Regardless of your role in the organization, every leader should ask themselves five questions. This session unpacks five questions built around vision, personal growth, leadership development, strategy, and progress. You'll be challenged to take practical steps in your personal leadership and organizational environment.
Creating Your Church's Culture – Every church has a unique culture. In this session you'll learn how to create a thriving culture in your church with fully engaged staff, effective systems, healthy relationships, and superior performance.
Creating an Organizational Growth Culture – Leaders not only want to grow, they want their teams to grow too. Creating an organizational growth culture is essential for your church or organization to reach its full potential. This session helps you take practical steps to cultivate a growth culture and stimulate an organizational learning posture.
Do Good Works: Am I Doing What I Was Made to Do? – People of all ages are asking the same question, "Am I doing what I was made to do?" Ephesians 2:10 says, "For we are God's handiwork, created in Christ Jesus to do good works, which God prepared in advance for us to do." This inspiring teaching will foster hope and share with participants the ten pieces of the "Good Works" puzzle. You'll leave with a practical roadmap to identify the good works God prepared for you to do. (Available as a single-session or a one-day workshop. Check out the Do Good Works Seminar or Coaching Experience or DoGoodWorksBook.com)
Launching and Growing an Effective Small Group Ministry – Small groups are critical to the health of the local church. This session will help you launch and grow a healthy small group ministry, recruit and develop leaders, maximize participation, and mobilize groups to serve.
Unexpected: What to Do When Life Disrupts Your Plans – In this session I share a personal story of unexpected pain, and offer hope and wisdom to people struggling in their own season of pain. I can also co-teach this session with my wife Karen. The content of this session is based off our book Unexpected.
If you are looking for a different topic, or are scheduling a service at your church, please contact me to discuss your needs.
What Others are Saying
"Stephen Blandino is one of the greatest leadership trainers and developers of curriculum I have ever met. He is an incredible asset to the Kingdom of God at large."
– SCOTT WILSON, Senior Pastor, The Oaks, Author of Ready, Set, Grow, Steering Through Chaos, The Next Level, and  Act Normal
"Stephen really gets the church. His content on church strategy is some of the best I've ever heard. You will not be disappointed in what he brings to the table for you and your team."
– JUSTIN LATHROP, Vice President of Strategic Partnerships at Southeastern University, Author of The Likable Christian
"Stephen Blandino did an awesome job challenging our people at the Louisiana Assemblies of God Church Ministries Convention. I received positive comments on his presentations on small group ministry, personal development, and leadership skills. I was particularly appreciative of the books, curriculum, and resources he made available to our leaders."
– HUTSON GOZA, Louisiana Christian Education Director
Tell Me About Yourself and Your Event
I'm honored that you would consider me to speak to your team or at your next event. If you'd like additional information, or want to check availability, please complete the form below.