The New Book by Stephen & Karen Blandino is Now Available
Everybody Encounters the Unexpected! Whether it's losing a job, receiving a bad report from a doctor, a late-night phone call, a relationship ending, a financial setback, or a dashed dream, "unexpected" shows up in unwelcome ways. Sometimes it feels like it's raining rocks, and we're doing our best to dodge a fatal blow. The question is, how do we respond when life unexpectedly disrupts our plans.
"When life disrupts your plans – and it will – how will you respond? Karen and Stephen Blandino have walked through deep valleys of disruption and emerged with truth that will help you face your own times of pain and loss. Take advantage of their hard-won perspective for facing the unexpected setbacks and traumas in your own life."Dr. Daniel Allen
Leadership Coach and author of Summoned: Stepping Up to Live and Lead with Jesus.
In Unexpected: What to Do When Life Disrupts Your Plans Stephen and Karen Blandino share their personal stories of pain and disruption. Karen shares how her peace was stolen during a robbery when five young men broke into her house, and then dragged her out of the shower at gunpoint. Stephen shares his journey of simultaneous congestive heart failure and pulmonary failure despite years of annual check-ups with good reports. From their stories, Stephen and Karen share seven valuable takeaways about: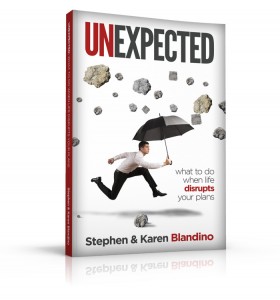 Prayer
Trust
Perspective
Family
Community
Purpose
Legacy
Each takeaway is loaded with practical wisdom that you can apply to your life today. And every chapter includes honest, authentic, and emotional clips from Stephen and Karen's journey. Whether you're navigating an unexpected disruption, or your life is going great, the insights in Unexpected will inspire hope, offer wisdom, and deepen your faith.
"An invaluable, honest and practical look at how we should respond when unexpected disruptions happen in our lives. This affirming message of hope and healing is a must read!"John McKinzie
Lead Pastor, Hope Fellowship, Frisco, Texas
Order Unexpected: What to Do When Life Disrupts Your Plans Today
The Unexpected Study Guide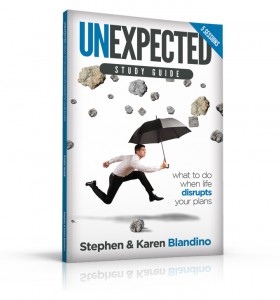 In addition to the book, the Unexpected Study Guide is now available. This 5-session study guide is great for use in a small group with friends or for personal reflection. The five sessions include:
Trust: Replace the Question with a Period
Perspective: Refined or Defined?
Community: Family, Friends, and the Power of Love
Purpose: Leveraging What Is for What Could Be
Legacy: Write It While You're Living
Each session also includes a special prayer emphasis as well as a takeaway for personal application. Learn more about the Unexpected Study Guide HERE.
The Unexpected book and Study Guide is Available on