Every one of us have experienced the "Unexpected." It might have come as a late night phone call, a doctor's diagnosis, a financial setback, a broken relationship, a business bankruptcy, or the loss of a loved one. Regardless of what label you put on the "unexpected" that showed up in your life, it hurt. So that raises a question: What does it mean to trust God? Or more specifically, how do you trust God when life unexpectedly disrupts your plans?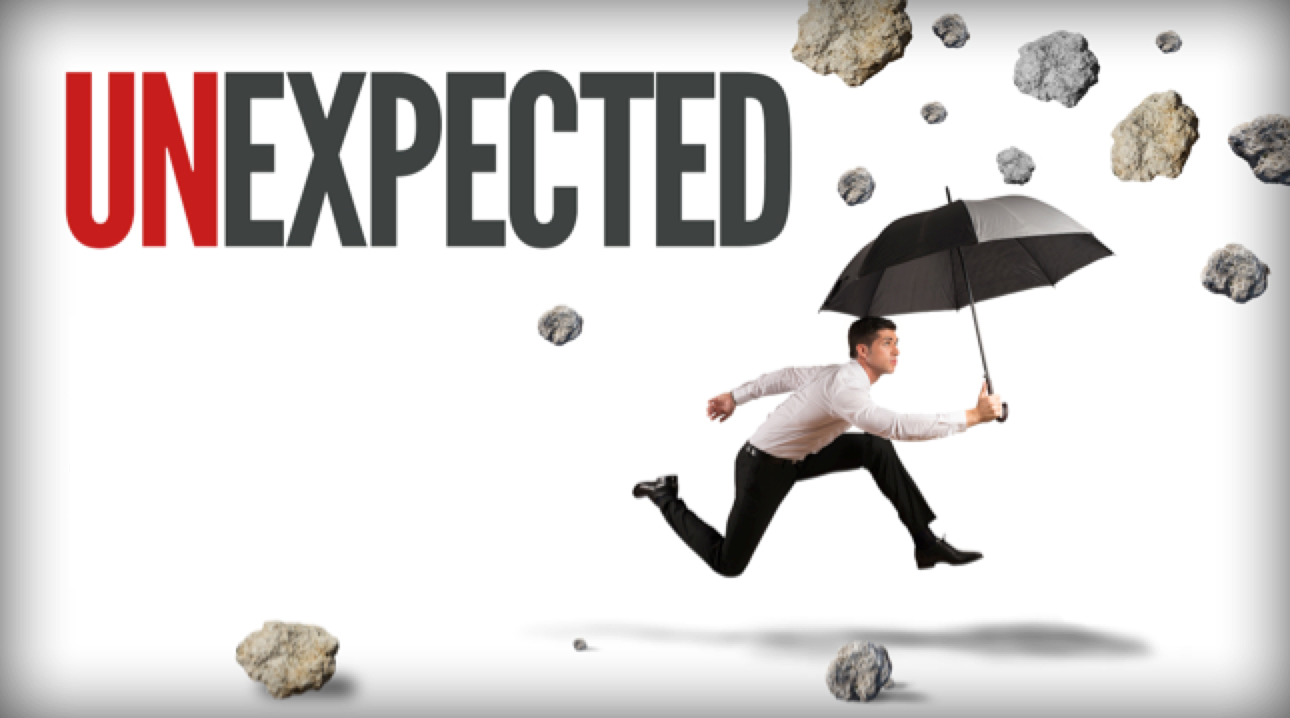 In his second letter to the church in the city of Corinth, the apostle Paul provides some wisdom on this very issue. He writes:
We think you ought to know, dear brothers and sisters, about the trouble we went through in the province of Asia. We were crushed and overwhelmed beyond our ability to endure, and we thought we would never live through it. 9 In fact, we expected to die… (2 Corinthians 1:8-9a, NLT)
What trials did Paul face? He faced riots, attacks, imprisonment, illness, beatings… and that's just the beginning. But then look at what Paul says happened as a result.
But as a result, we stopped relying on ourselves and learned to rely only on God, who raises the dead. 10 And he did rescue us from mortal danger, and he will rescue us again. We have placed our confidence in him, and he will continue to rescue us. (2 Corinthians 1:9b-10, NLT)
Look at those words again: "But as a result, we stopped relying on ourselves and learned to rely only on God…" In other words, Paul let his pain push him to God rather than away from God. His pain drove him to a place of trust in God rather than a place of self-reliance.
In 1989, my wife was unexpectedly robbed when five men broke into her house, and then dragged her out of the shower at gunpoint. They stole her peace, and it was a very difficult time for her. In March 2014, I unexpectedly encountered simultaneous heart failure and pulmonary failure. After an emergency helicopter transport to the Heart Center in Fort Worth, I underwent open heart surgery and spent eight days in the hospital. [You can hear both of our stories here.]
Needless to say, "unexpected" disrupted both of our worlds. In that moment, we had to rediscover what it means to trust God – or as Paul admonished – to stop relying our ourselves and to rely only on God.  In Proverbs 3, King Solomon provides a powerful picture of trust. From His words, we are reminded that trust means two things:
1. Trust is to Acknowledge God and His Wisdom
Proverbs 3:5–6a (NIV) begins, "Trust in the Lord with all your heart and lean not on your own understanding; in all your ways acknowledge him…" When the unexpected shows up, our most natural tendency isn't to acknowledge God; it's to blame God. We point our finger at God and say, "You could have stopped this, but you didn't." In that moment we have to wrestle with this question:
Will I give the adversity in my life authority over my life?
The moment your adversity is given authority, your adversity becomes the master of your life. It rules your thoughts, your attitudes, and your behaviors. It dictates what will happen next. It owns you and your future. So what other option is there? Again, Solomon said, "…lean not on your own understanding; in all your ways acknowledge him." In other words, trust. Acknowledge God and His Wisdom.
Don't give the adversity in your life authority over your life. Click To Tweet
While I was in the hospital recovering, a family in our church (Shawn & Michelle) came to visit me. They brought with them a plaque with a scripture inscribed on it. Before handing the plaque to me, Michelle explained its significance when she was diagnosed with cancer.
Michelle told me that the summer before her diagnosis, their daughter went on a mission trip. During the trip, a woman gave their daughter a bracelet that said, "I can do all things through Christ who gives me strength" (Philippians 4:13). When Shawn and Michelle shared the news with their kids, their daughter went to her room and retrieved the bracelet. She brought it downstairs and gave it to her mom. Michelle said she just wept. This passage of scripture – which she had always taken for granted – suddenly had new meaning.
A few weeks later Michelle shared this story with her friends at her "Pink" party. Some time later, a friend who heard the story gave Michelle a plaque with the same Scripture on it. When Michelle's friend gave her the plaque, she said:
"I believe I need to give this to you. It was a constant reminder and encouragement to me after I lost my 16-year-old son in an ATV accident." And then she said these words: "Now, when you don't need it anymore, or whenever you feel led to give it to someone else, pass it on."
As Michelle shared this with me, she reached over and handed me the plaque and said, "During this process, I felt God wanted me to give it to you." The words on that plaque are a constant reminder to acknowledge God and His Wisdom. In that moment I was reminded that His Word is that Truth and I discovered this essential insight:
"To trust God, you have to acknowledge the Truth that's greater than your trial."
Karen discovered this same principle when she was robbed. Psalm 91:2-3 became her anchor: "Whoever dwells in the shelter of the Most High
 will rest in the shadow of the Almighty. I will say of the Lord, 'He is my refuge and my fortress, my God, in whom I trust.'" These words were not only a constant reminder of where she should place her trust, but they also reminded her where she could find her rest. Then there was Isaiah 32:18: "My people will live in a peaceful neighborhood — in safe houses, in quiet gardens" (MSG).
That doesn't mean all of our questions suddenly found answers, or that life always made sense from that day forward. But we found an anchor that was constant in our storm.
To trust God, you have to acknowledge the Truth that's greater than your trial. Click To Tweet
I recently heard Pastor and author Greg Laurie share about the difficult loss of his son Christopher in a tragic car accident in 2008. Pastor Laurie made  a powerful statement that I believe helps us navigate our questions when the Unexpected doesn't make sense. He said:
"Don't trade what you do know for what you don't know."
I don't always know why bad things happen. I don't know why my heart failed or why Karen was robbed. I don't know why Greg and Cathe tragically lost their son. I don't know why you lost your job, your spouse left, or you got a bad report from the doctor. But as Greg observed:
I do know this: I do know that God loves me. I do know that I've been called according to God's purpose. I do know that God takes what the enemy meant for harm & turns it for good. I do know God is sovereign and in control of my life. And I do know that the word "oops" is not in God's vocabulary.
If you're going to trust in God, don't trade what you do know for what you don't know. Acknowledge God. Acknowledge His Wisdom. Lean away from your own understanding and place your trust fully in Him.
2. Trust is to Act on God's Wisdom
The second key to trust is to act. Look again at King Solomon's words: "Trust in the Lord with all your heart and lean not on your own understanding; in all your ways acknowledge him, and he will make your paths straight. Do not be wise in your own eyes; fear the Lord and shun evil." (Proverbs 3:5-7)
What does "He will make your path straight" mean? It simply means that God doesn't bless "our" path. He blesses "His" path, reveals it to us, and invites us to walk on it. We don't particularly like that truth. We would rather God bless us by Him walking on our path. But it doesn't work that way, does it? God says, "I'll bless you," but you have to walk on my path. And that's not so easy. Why? Because it means we have to give up control? Author and pastor Mark Batterson captured this well when he said:
"Most of our emotional problems are symptoms of one deep-rooted spiritual problem: lack of trust in the sovereign God. It's our lack of trust in Him that results in high levels of past-tense guilt, present-tense stress, and future-tense anxiety." (Soulprint, p. 37)
The less we trust God, the more we feel the need to control our circumstances. But it requires us to let God be in control…to place our trust fully in Him.
When my condition went from flu-like symptoms to fighting for my life in a matter of twelve hours, Karen told me how fear came rushing back into her heart. Around Midnight on that Monday night, Karen woke up & called her mom & asked, "Is he going to be all right?" Her mom did her best to reassure her.
Then Karen called her friend Jennifer. She was sobbing so hard that she could barely get the words out. Finally she asked Jennifer, "Is he going to be all right?" Jennifer reassured her as well and then came over to the house to stay the night with Karen. As Jennifer was sitting with Karen she said, "Picture what it's going to be like. This is the worst day, but every day after this is going to be better."
Later on Karen told me that in those first couple of days, God began to prompt her to trust Him anew. Rather than asking, "Is he going to be all right?" God prompted her to drop that question mark and replace it with a period: "He's going to be all right… period." A simple shift in punctuation was the fragile beginning of a shift from fear to faith.
When you replace the question with a period, you simultaneously replace control with trust.
So where do you begin when life disrupts your plans? You trust God by acknowledging him and acting on his wisdom. It doesn't mean it's easy. Nor does it mean that it's what we even want to do. But it's the place where we find hope. Let your pain drive you to God not away from God. Take a fragile step forward and place your trust in Him.
This article was adapted from our new book,