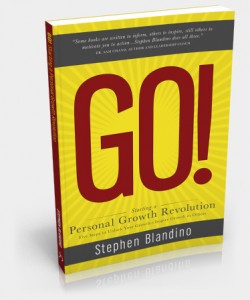 M

y New Book is Coming in August
I cannot tell you how excited I am about the upcoming release of my new book, GO! Starting a Personal Growth Revolution. Writing is both a calling and a passion for me, and the message in this book has been cooking inside of me for well over twelve years. I'm so glad to finally share it with you.
So What's the Message?
Do you feel stuck? Is your personal growth on pause? Is the gap growing larger between where you are and where you want to be? Do you want to help others grow but you don't know where to start? My new book equips you to unlock your personal growth and inspire a growth revolution in others.
Whether you're just starting your growth journey, you're a lifelong learner with an unquenchable appetite for growth, or you're somewhere in between, GO! will help you to:
Identify and close the gap between you and your dreams
Access the three on-ramps to personal growth
Create a customized personal growth TRAC
Experience the power of the five levels of personal growth
Embrace the five GO! Practices that take personal growth to an entirely new level
Leverage your personality type to grow to your full potential
Make intentional investments in others by using six growth deposits
GO! will not only challenge you to grow yourself and the people you influence, but it will also equip you with the tools to turn growth potential into reality. Whether you're a pastor, coach, teacher, leader, HR professional, student, or you simply want to take your personal growth to a new level, GO! is your roadmap to get there.
What Others Are Saying About GO!
"Some books are written to inform, and others to inspire, still others to motivate you to action. In GO! Starting a Personal Growth Revolution author Stephen Blandino does all three. You will learn, grow and move forward. The concepts are real-life and the strategies, if followed, will actualize your full capacity potential."

– DR. SAMUEL R. CHAND, Leadership Coach, Consultant, and Author of Cracking Your Church's Culture Code

"Anybody who wants to become all that God wants them to be has to read GO! Stephen hits the nail on the head on how we develop personally so that we can maximize our God given potential!"

– HERBERT COOPER, Lead Pastor, People's Church, Oklahoma City

"In business I'm always looking for a competitive edge, and in GO! Starting a Personal Growth Revolution Stephen Blandino gives you that edge. Through the five levels of personal growth you create a pathway for personal growth both for yourself and the people you lead. This book is one you'll actually implement the wisdom it contains."

– BILL BARNETT, Nationally Syndicated Radio Host and the Best Selling Author of Are You DUMB Enough to be RICH?
I hope you'll pick up a copy of GO! upon its upcoming release. If you want to get the latest news on my new book, sign up in the top right margin to get email updates.