I enjoy helping people discover the purpose God created them to fulfill. I particularly enjoy helping younger leaders. With a long runway ahead of them, I see years of potential just waiting to be discovered, developed, and deployed.
But that's not the case for everyone.
Countless times, as I've taught groups how to discover their "good works," I've heard the agony of regret: "I wish I'd heard this 30 years ago." You can hear the lament, the disappointment, the what-ifs and what-could-have-beens, sucking the life out of the years that remain. Like a menacing storm cloud brewing on the horizon, feelings of fear and inadequacy mock them with an ominous message: "It's too late!"
Maybe you feel the same way. Maybe what is doesn't look anything like the what if you dreamed of in earlier years. Maybe the years have passed with nothing to show but an unremarkable collection of disappointments coupled with your fair share of scars, pain, and heartache. With it, your confidence has turned to doubt, and your optimistic aspirations have turned into palpable cynicism.
Or maybe you're on the other end of the spectrum, just beginning your journey, but franticly searching for direction. Time is running out to be the next sensation to hit the market, attract the most followers, secure the most downloads, or garner the most views. If you don't figure it out soon, you'll turn 30, and then it'll be too late. You'll be the old, irrelevant, out-of-touch guy still trying to be cool with his hip hair and stylish jeans.
Regardless of which end of the scale you find yourself on, the same question haunts you: Am I doing what I was made to do? Like a permanent fixture in the landscape of our future, the question doesn't go away. At first it whispers. Then it mumbles. Before long stutters and babbling become all-out shouts and screams like the passengers on a plane in a quick decent. The end is near, and the question still hasn't been answered.
I came face-to-face with "the question" in my early 30s.
I had just transitioned into a new role with a fledgling organization. While I enjoyed what I was doing, I didn't have a clear purpose for my life. I didn't know the "thing" God created me to do. After all, a job is not a purpose. It's simply one role through which my purpose can be fulfilled. Purpose is much bigger, like an umbrella. Once the umbrella is opened, we can choose roles to place under the umbrella that will help us carefully and strategically fulfill our purpose.
A job is not a purpose. It's simply one role through which my purpose can be fulfilled. Click To Tweet
At this pivotal moment in my life, I met Steve Moore. Steve and I worked in the same organization, and I quickly discovered the extraordinary sense of purpose that accompanied his life. He was like the purpose Yoda. Every word he spoke and action he took seemed to exude meaning and intention. "Why can't I be like that?" I thought.
His clarity was born out of a deep awareness of his past, his strengths, and his passions, but more importantly, out of a growing personal relationship with God. His life wasn't just some new version of a self-help seminar on display; it was a living, breathing expression of purpose formed out of a Biblical worldview.
To my delight, I quickly discovered that Steve enjoyed helping young leaders discover their purpose, too. Needless to say, I was a candidate. No, he didn't ask me if I wanted to sit at the feet of Yoda and drink from his fountain of wisdom. I sought him out. I asked for help. I set aside all of my pre-conceived notions and started from the beginning. That single decision, and the conversations that followed, changed the trajectory of my life.
In my conversations with Steve, he reminded me of the words the apostle Paul wrote to the church in the city of Ephesus:
"For we are God's handiwork, created in Christ Jesus to do good works, which God prepared in advance for us to do" (Ephesians 2:10, NIV).
That phrase "do good works" captured my attention. Equally captivating was the fact that God determined these "good works" before I was even born. He prepared them in advance as my assignment, my task, my calling, and my mission.
Over the course of the next year, Steve used this verse as a framework to help me clarify the good works God had called me to do. I embarked on a journey that would cause me to reflect on my history, explore my identity, and wrestle with a practical expression of good works that would glorify God.
I worked on my "good works project" for a while, and then I'd put it down for a few weeks. After several iterations of working and reflecting, I emerged with clarity. I'm sure it took longer than it needed to, but I was determined not to rush the process. I wanted clarity over urgency, confidence over quickness, understanding over speed. At the end of the process, I was clear.
I was able to boil my good works down to one sentence…one clear, focused, and deeply meaningful sentence that articulated my life's mission. You can, too.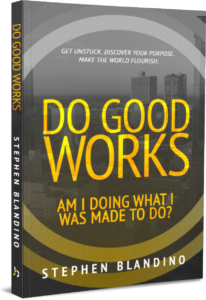 That's what my new book is all about. In Do Good Works: Am I Doing What I Was Made to Do?, I take you on a journey to discover how God created you on purpose, cultivated you for purpose, crafted you with purpose, and called you to purpose. Then, I help you link all of those puzzles pieces together to clarify the good works God prepared for you to do.
Before it's over, you'll be able to articulate your good works in a single sentence, and I'll walk you through a process to identify the best roles where you can fulfill the thing God created you to do.
Do Good Works is available on Amazon, Barnes and Noble, Books-A-Million, and on Kindle. Plus, for a limited time, you can access a bonus resource when you purchase Do Good Works. Check it out today at DoGoodWorksBook.com.